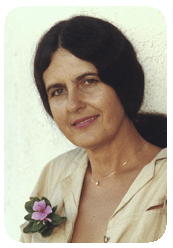 Born in Hungary of a talented noble family. Painted since childhood. Studied painting in Hungary with Janos Nagy 1954-56. Award winner of Budapest School Exhibition 1956. Studied painting with Masson at the Palett Club and Arthur Lismer, Professor of Art, Montreal, Canada, 1958-60. Award winner of Montreal Catholic School Exhibition 1960. Has exhibited her paintings in group shows and her work has been published. She devoted her time to further study painting in museums in Paris, Nice, Monaco, Barcelona, Granada, Rome, Venice, Florence, Pisa, Sicily (Taormina), Athens, Budapest, Vienna, Amsterdam and Zurich 1976-78. While re-visiting her native Hungary (1978), collected wild flowers which inspired her for the watercolor paintings. She paints all media, received invitations to exhibit: Italy and Hungary.
She has shown her work in Arizona for more than 35 years. de Kerpely-Zak specializes in painting Impressionist -style flowers. Her flowers are a symbol of freedom and are said to be, "Healing," by magazines and collectors.
View her interview in Arizona Foothills Magazine,  ArtBusinessNews & ArizonaHighways
Her work has been exhibited and sold around the world including two of her works which were commissioned for Pope John Paul II.   View her television interview featured on KTVK Ch 3
de Kerpely-Zak's works have been compared to and published with Georgia O'Keeffe. 
Andrea has been interviewed about her Wildflowers paintings view her interview  on 12news
Follow her on pinterest